I know that it has been a terribly long time since I posted any images of the children. You've missed them, no? But, as much as I abhor the pointing of fingers (yeah...right...), this time it was not my fault.


Yes, you know who you are. Camera dropper. *sighs* ;)



A certain someone, who will go unnamed, dropped my all-but-new sony cybershot under a Mississippi (or was it South Carolina) bridge. And so I was camera-less, and in a very un-Jamalyn like move, I did not immediately go out and purchase a new one, but rather drove around with my old broken toy for the better part of three months, hoping to find a camera repair shop.


Camera repair shops are few and far between. :) That, or I am blind. Maybe both.



Anyway, I finally gave up and purchased a new cybershot, opting this time for the DSC-T10. Cute, tiny and pink, oh so very first sakura bloom pink. :) And being a good mother, my first shot was an on-the-fly snapshot of my children.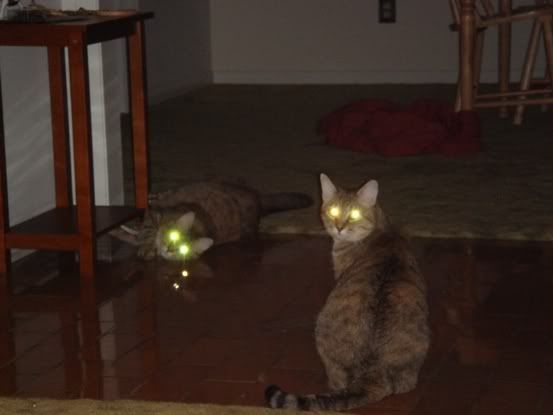 Not. Cute. :) But I'll get some cute ones after I've gotten some sleep...and figured out what all these too tiny to finger buttons are supposed to do.


(But, I must say three things: [1] Wow! I am a house-keeping rockstar! Check out that serious tile shine! [2] I never would have adopted GE or Kiku-chan if I knew that they came equipped with Cyclops-like eye lasers {I will NOT explain that reference} and [3] That wad of fabric in the back ground is my table cloth--notably, not on the table. Every morning I place it on the table and every evening, it is a lump on my dining room floor. I have no idea what they do while I am at work).


Yours,
J. Washington Irving