As Seen On Hulu.com: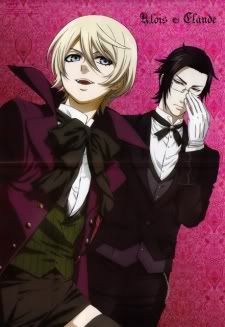 Black Butler II



Given the end of Black Butler, I must say: this came as an utter shock! It never occurred to me that there was even the tiniest possibility of as second season. And needless to say, this season starts off much, much darker than season one. After all, we all know where this little relationship is headed.

But thankfully, despite the darkness, which I love, we have not lost the utter quirkiness that so defines Black Butler (see: tap dancing redecorating scene). After all, it is the juxtaposition between the dark and the bizarre that really makes this series great.



So, do ya wanna watch? Hmm? Yeah, I thought so. *winks*













OMG! My heart skipped a beat with hope when the deep-night's guest was repulsed by the spot of sauce on the plate's edge. "Oh! Could it be?" I gasped. And it was. Sebastian! And what was he toting with him? Why Ciel's lifeless body, of course! Squee!!




Oh, what will be? What will be?